Deletion of Negative Links and Reviews is our Business
Deletion of Negative Links and Reviews is our Business
In 30 days or less Our De-Indexing process will delete Youtube videos, articles, blogs, press releases, bad reviews, rip off reports, wordpress websites, and much more! Contact us today and we can help.
We specialize in burying negative links quickly. Our team will create content, build websites, create domains, and suppress the negative content quickly. Our team creates and ranks digital assets on the top 5 page of Google within days or months depending on your specific situation. Contact us today for a free analysis.
We have a Third Party Reviews program which can write, share and distribute positive reviews through our proprietary software manually operated by our team. We also have special relationships with Facebook, Yelp, and Google Corporate. We have had negative reviews removed
What do they say about us?
What do they say about us?


Online Remove Negative Links | Reputation Management Agency Firms | Services For Individuals | Legal Removal
See the below chart to better understand how our suppression program works.
See the below chart to better understand how our suppression program works.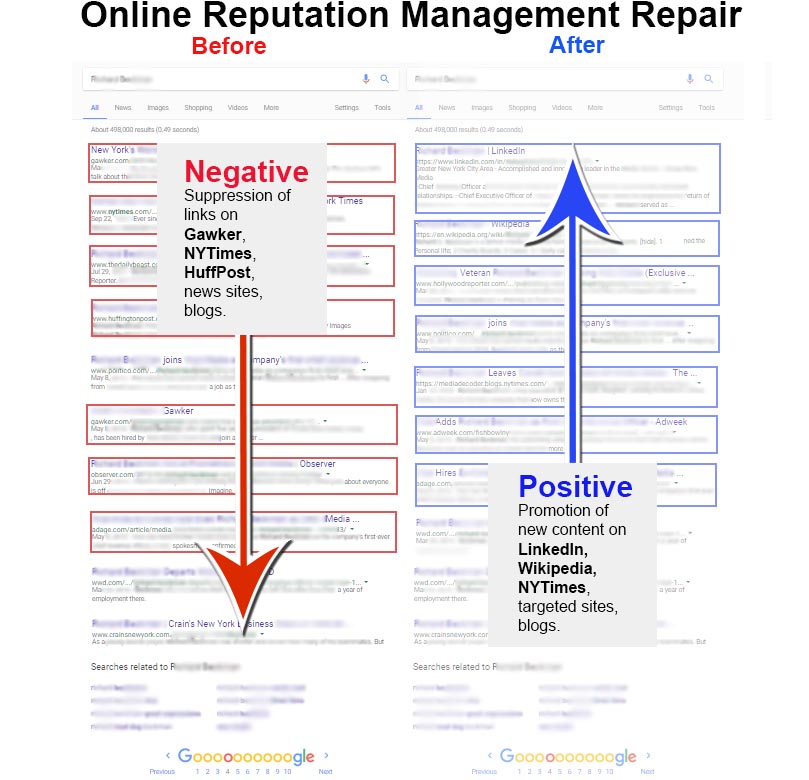 How do we begin?
How do we begin?
Our Senior Account Managers will speak with you in detail and suggest the best plan for you.
In some cases it may be that Reputation Suppression will work and in other cases our De-Indexing program will be a better fit.
Should you be facing a reviews problem then we will suggest to you the best reviews program to fit your needs.
Our contracts include a 30 day cancellation policy depending on the service of your choice.
In most cases our contracts are fulfilled within 30 days due to our expedited quick service process.
Each of our services comes with a money back guarantee.
We have our own client base in the multilevel marketing space. Our clients always have negative links coming up from false statements and we needed some of them suppressed and De-Indexed. Reputation Guards De-Indexed three of the links in 20 days and suppressed the remainder of the links in 60 days
I run an international limousine service and I had an article in a major newspaper which was damaging our RFP proposals for new government contracts. Reputation Guards De-Indexed the harmful article within 22 days and we have sense confirmed four new contracts
with the Connecticut department of transportation.